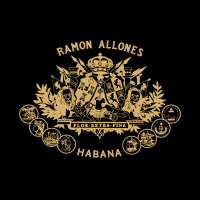 RAMÓN ALLONES IS ONE OF THE BIG NAMES IN THE HISTORY OF HABANOS.
Founded in 1837, it is also one of the oldest brands in production. A Galician by birth Ramón Allones was the first cigar manufacturer to pack his cigars in boxes decoreted with labels and stamped with his brand´s emblem. He was the pioneer of the packaging we know today. All the cigars are filled with a blend of tobaccos from the Vuelta Abajo region, characterised by their intense and complex taste.
The range includes "tripa larga, totalmente a mano"-long filler, totally hand made cigars such as the famous Gigantes and Specially Selected.
Flavour